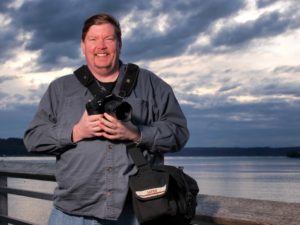 Hi my name is Michael Brunk, welcome to my site!
I've been involved in photography for over 30 years. I'm currently the full-time staff photographer for the Snoqualmie Indian Tribe. Prior to that I worked part-time as a photojournalist for South King Media.
I also shoot part-time for several local theaters, including SecondStory Repertory, Burien Actors Theatre and the Bellevue College Theater Department. On the side I extensively shoot landscapes, events, portraits and automotive.
I shoot multiple camera systems.
My primary camera for stills photography is the full-frame Nikon D750 with a variety of lenses. When traveling I often use the compact and lightweight Olympus PEN-F. For video I use the Panasonic Lumix DMC-G6.
In 2017 I began using a DJI Mavic Pro drone for aerial photography.